Last weekend, after a long winter in the valley, we finally got back up to the ranch.  We had to leave Laurent at home due to her work and singing schedule, but we left her with Oma and Uncle Jeff (and Gwinnie) so they had plenty of good fun while we were gone – going to movies and out to dinner several times!  And since we left Gwinnie home, and only had 4 kids along, we were able to make the trip in one vehicle.
We left Thursday afternoon, meeting Paul at the church where he dropped off his car for Laurent, and then headed north.  We arrived after dark, but that is always the most fun – unloading under the stars and finding our way around the cabin by flashlight and kerosene lantern.  In the morning we discovered that our supplies were so diminished that our only choice for breakfast was plain oatmeal or Progresso soup. I mixed three kinds and added some black beans, and we had a lovely Italian soup breakfast.  Before long it was time to head into town to meet Grandma and Grandpa in St. Johns for some shopping and lunch at the IGA grocery store.  Their deli has a rather tasty assortment on the menu, and I very much enjoyed my fish sandwich, although it was huge, and a few of the marvelously crispy french fries.  From there we had to make a stop at the ALCO store in faint hope of finding some kind of footwear for my enormous 14yo still-growing boy.  I guessed they wouldn't have anything in 14, and was proven correct; however, despite measuring a size 14 wide on the metal slidy thing, he found that the steel-toed work boots in size 13 were an excellent fit, so with one success down, I stopped by the socks and there found some very expensive thick woolen socks that looked like they might do the trick.  2 for 2, we headed back to the ranch.
It was then that the inevitable ranch disaster struck.  Our beautiful Toyota minivan, such a dream to drive, and quite comfy to ride, is simply ill-suited to rugged terrain.  Worse yet, the roads were so rumbly that it took me a little longer than it should have to realize that there was something wrong, and by the time I stopped to have Paul check things out, the tire looked like this: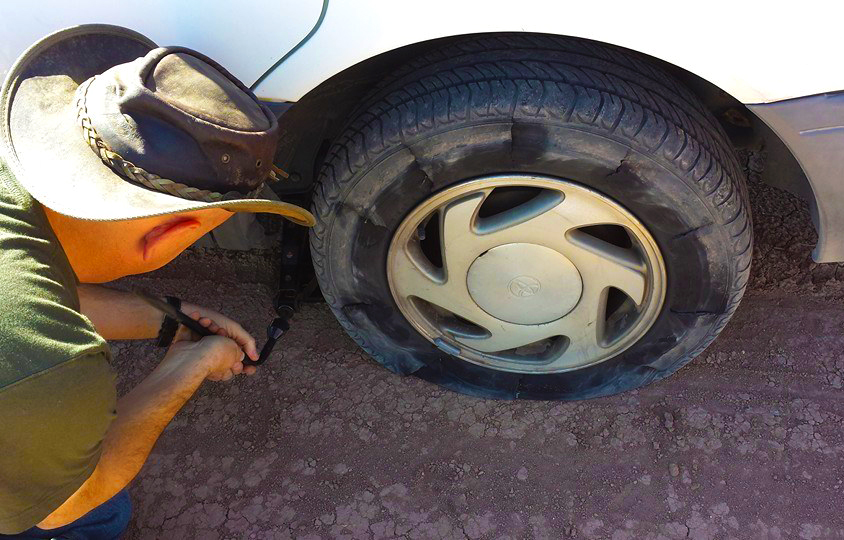 So, while he and his dad changed the tire, and we ladies waited in the wind, I took pictures on his phone… including this: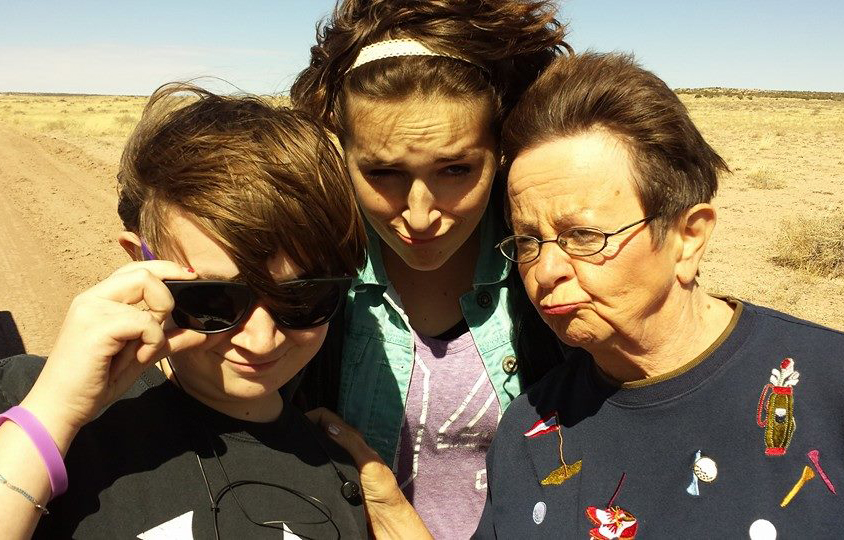 After that debacle, you can believe me when I say that I drove   v e r y   d e l i c a t e l y  the last 10 or so miles, and delivered my cargo without further calamity.  Then we had only to wait a little while longer for Jon and his two boys, JT and Joe, to arrive, and then the good times could really roll.  There were some hikes in the evening sun, Junior as our lookout with the binoculars, shooting at cans before roasting hot dogs and s'mores over the campfire under the stars … all the best things about being at the ranch.