Reflecting today on the five year anniversary of my father's passing from this life to eternity, I went back to re-read some of what was written about him at that time.  I want to post these again today as I remember Dad, with so much love and gratitude.

[hr color="dark-gray" width="15%" border_width="2px" ]

My dad's sister, Jeanne, could not be with us for the funeral because she was at the side of his other sister, Sally, who was nearing the end of her battle with pancreatic cancer.   But she shared these thoughts on Facebook:
My brother Jay was a strange man when viewed through our American culture. He had a masters' degree but worked as a janitor. He gloried in his children, not his career. He loved God and not possessions. He was passionate about Scripture and music, not a big screened television. He valued relationship more than recognition.

As my husband and I have talked about Jay over the past few days, we have concluded that we have never known anyone who more fully lived his beliefs, Jay believed in…
His Lord and Savior Jesus Christ
The wonder and import of the Word of God
Sharing his faith with others
Loving and caring for his family
The glory of music
Serving with dignity and honor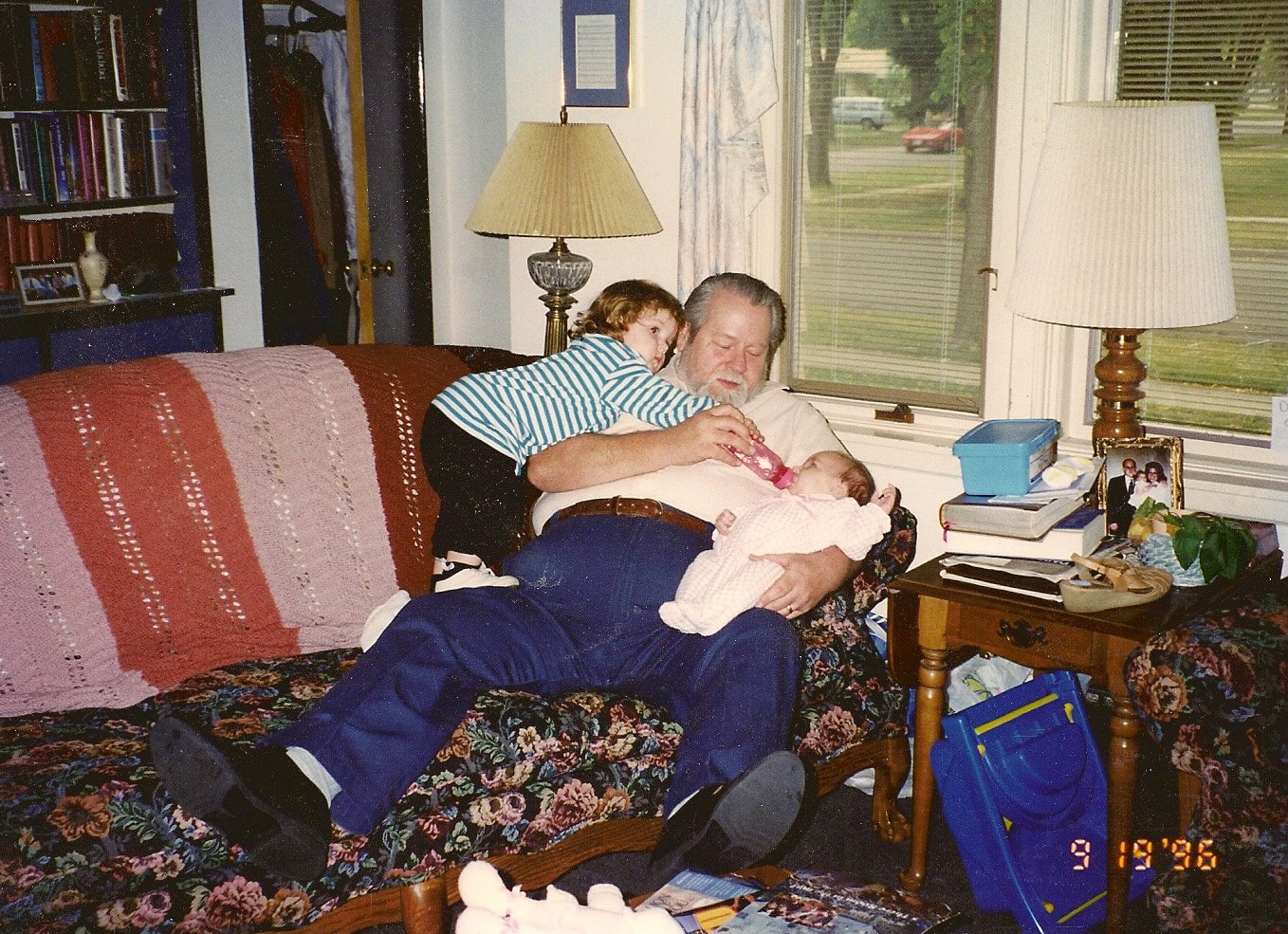 [hr color="dark-gray" width="15%" border_width="2px" ]

This second piece I want to share is a beautiful tribute by one of our dear friends, Dale Sullivan, that captures many aspects of Dad's personality and the impression he made on others.

by Dale Sullivan

Jay Holston passed away about 7:30 Wednesday morning doing his janitorial work at Concordia College. It is reported that a co-worker walked by a room and saw Jay kneeling and, thinking that he was picking something up, she went on. Ten minutes later she passed the room again, and he was still in the kneeling position, his head resting on his forearm, his boom box still playing hymns. The image of Jay's dying in a posture of prayer with hymns playing in the background will stick with me for life, even if I didn't see it. If it turns out some day that someone tries to correct me by giving me a more accurate version, I'm sure this image will hold its place in my consciousness over all contenders because it is such an appropriate image of his life and death.

Sheryl and I first met Jay and his wife Pauline in Dodge City, Kansas, probably in 1973, when we moved there to work with a Jesus People group to open a coffee house. The JP group disintegrated and the coffee house never opened, but we stayed and before long met Jay and Pauline. We met Jay because I was making the rounds talking to clergy about the possibility of a cooperative Christian coffee house. Jay immediately took to us and invited us to his office to study exegetical Bible Study methods and NT Greek. A few months later, he invited us to become youth pastors at the First Missionary Church where he served, and thus began a handful of very profitable years, years in which we made lifelong friendships with the Holstons, Stan and Jan Larson, and Lyle and Janette Wheeler, not to mention the youth in our youth group, at least one of whom is still very dear to us and keeps in touch with us. Of course I mean Janelle, but there are others from the group that still come to mind and have become Facebook friends through Janelle's continued networking.

A couple images of Jay from those days come to mind. I see him sitting behind his large desk in the small office, the walls of which were all book shelves fully packed with theology and bible study books. It was during this time that he taught us the differences between the major concordances and Bible dictionaries, the biblical commentators worth their salt, the history of the inductive bible study movement, and so on. Many of the books in the theology section of my personal library are there because Jay recommended them. The other image is a collage of images around meals: (1) Sheryl and I and Jay and Pauline playing Rook at their kitchen table with Phil Keaggy's early album playing in the background; (2) Jay trying to get his large body down to the pillowed floor at our dining room table which stood only about 30 inches high (and then trying to get himself back up!).

Finally, I have to share an image that I believe best represents Jesus in Jay. One message we picked up from our months at First Lutheran was that we were to see Christ in others. Taking that perspective, I thought last night at Maundy Thursday's communion, as I awaited the cup, about Jay. Normally at communion, Jay follows our Bishop, who has given us bread, with a chalice of wine from which we drink as he reminds us that this is the blood of our Lord. Jay, you must understand, was a rotund fellow, who in his later years had pure white hair.

So imagine, if you will, this rather portly, white-haired person in a linen vestment robe waddling toward you from the altar, holding the chalice brim full with wine out in front of him at shoulder height, a gleam in his eye, a conspiratorial smile on his face. He approaches me first because I am at the right side of the line of communicants and says under his breath, "Take a big gulp; there's too much in the cup."

Why is that picture such a good one? Because Jay was a teetotaler all his life but became tolerant in his later years? No. Rather it is the picture of Jesus coming to me in the disguise of Jay, rotund, jolly, intimate, brimming over with his grace, inviting me to drink fully of it.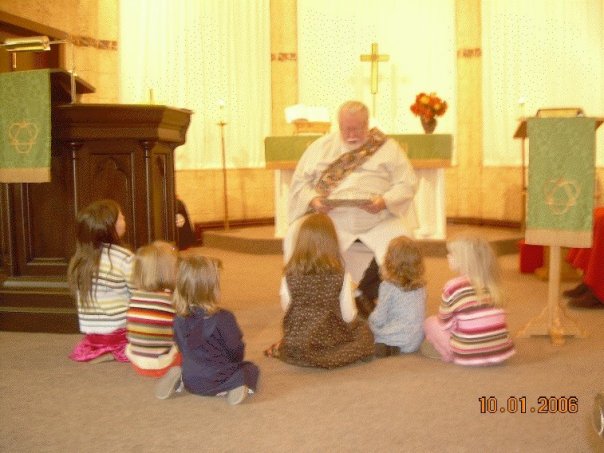 [hr color="dark-gray" width="15%" border_width="2px" ]
Finally, these were my reflections at that time; and now, five years later, I still think of Dad every day, and it is ever with this hope and image in mind: that he is constantly cheering me on!
The Man Who Yelled "Bravo!"
April 9, 2009 at 2:31pm
Whether it was holding services at a nursing home, or doing pulpit supply for a vacationing pastor friend, or just entertaining dinner guests in our home (or theirs) – you could always count on my dad to introduce the family musical ensemble with gusto, proclaiming, always, that he was the richest man he knew. If he ever considered the cost of buying and maintaining three cellos and a viola, plus the many years of private lessons and the expense of carting us around to rehearsals, recitals and concerts a burden, he never let on. What we heard was consistent delight and encouragement in our music making. Even when we sometimes thought he went way over the top, and feared he was foisting us upon reluctant captive audiences, Dad was unabashedly our biggest cheerleader.
It didn't stop with private family performances though. I would bet that every classical music lover in the Fargo-Moorhead area who has attended (or played) a symphony concert in the last 25 years has heard, in that electrifying moment between the last note played and the first wave of thunderous applause, that enthusiastic tenor shouting "BRAVO!!" You may not have known who it was, but let me tell you, that was my Dad, Walter Jay Holston. When I was 15, I was sure he was trying to embarrass me… after all, nobody else was hollering out there! But of course, that wasn't it at all. My father absolutely loved the music, and even though he didn't play an instrument, he loved to be a part of that world with his family. And being a man of great enthusiasm, when he loved it he had to let everybody know!
It was a pattern I could not escape, even if I tried – not even when I got married and moved 1,800 miles away! I could never escape his reminders of his love; his overwhelming joy every time I called to announce that another baby was on the way; his praise and encouragement for my homemaking and eventually home schooling efforts, especially when I was unsure of myself; and most of all, his giving of thanks continually for God's covenant faithfulness in his family. Dad was ever faithful in cheering me on.
So now, Dad, as I look ahead to the second half of my earthly journey, this passage from Hebrews takes on a new and special meaning:
Hebrews 12:1-3
Therefore, since we are surrounded by so great a cloud of witnesses, let us also lay aside every weight, and sin which clings so closely, and let us run with endurance the race that is set before us, looking to Jesus, the founder and perfecter of our faith, who for the joy that was set before him endured the cross, despising the shame, and is seated at the right hand of the throne of God. Consider him who endured from sinners such hostility against himself, so that you may not grow weary or fainthearted.
Dad, you ran with endurance, and you have finished the race! And now, as you are seated amongst that great cloud of witnesses, I know you are my biggest cheerleader. I want to run the race so that I can someday hear you shout again, above the thunderous applause of all the saints, "Bravo!!"