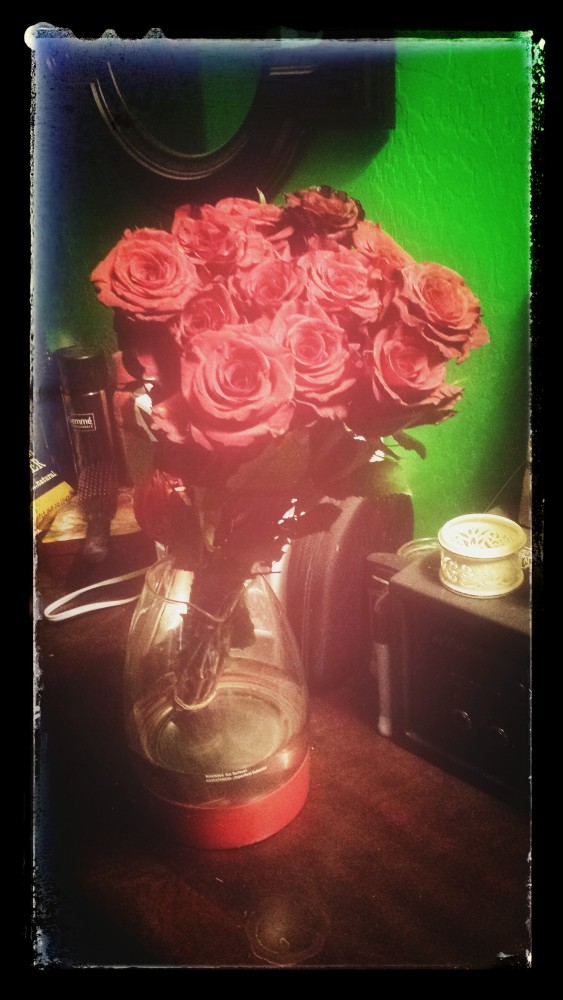 Ahh Valentines day – the day of hearts and roses and poetry and sweet tarts!
Our holiday weekend started off with a bang on Friday evening with a little supper at McDonalds (value menu, baby, with seven kiddos it's the only way to eat out). From there, Paul took the boys home, and I took the girls with me to Wal-Mart for the Mega Shop. Geneva made a bee-line for the style shop and got herself a hair cut and style, while Megan did some shopping for herself, and Laurent helped me do some little-boy clothing-shopping. When we got that part finished, we checked in on Geneva, only to find that the stylist was in her seventh heaven handling Geneva's head of platiunum locks, and taking her time with the all the blowing and curling and floofing, so it was a little while till she finished. Then we went about the business of acquisitioning the required household supplies, and by the time we were finished, I had been shopping in my most unfortunate shoes for 2 and a half hours. My feet and legs gave me much heck for it, too!
However, I was in a mighty sprightly mood going home, because I had gotten some wee little Valentine sweets for my crew. Each of the big kids got their own special bag of Trail Mix, while the little boys got mini-M&Ms, Conversation Hearts, and a lap-top white board with a pen to take with them in the car to draw, practice handwriting, tic-tac-toe, what have you. For Paul, I found all sorts of goodies: some white chocolate (all to rare, for some strange reason, and they only kind he likes); miniature sugar cookies with red frosting (favorite cookie, favorite color, the perfect sweet!); a box of pens (he's always griping about how there are no pens in the house); Kettle Cooked Sea Salt and Cracked Pepper chips (his favorite); and a pair of magnetic LED lights for the occasional night-car-fixing adventure. I delivered his cache of delights when we got home, and I'm happy to say he was well pleased.
Saturday morning, I awoke from a restful sleep-in to find these glorious roses awaiting me, in a tea kettle, on my dresser. What a sweet way to begin the day! 🙂
It was not long before we were hastened to load ourselves into the two vehicles we now require to go anywhere and set off on the adventure Paul had awaiting us. I had tried and tried to pry our destination out of him, but when he takes it into his head to surprise us, ain't nuthin' gonna get it out of him.  Off we went, and drove only a wee bit, until we got to Tempe, and there we found ourselves at the Tempe Center for the Arts, right by the Tempe Town Lake.
It has been a long while since I was down to the lake, and never by that building, so it was brand new for me. The doors weren't open yet, so we explored outside. Geneva's camo-batman ensemble begged for some grunge photos by a large metal door; then we had some fun posing by the negative horizon pool, and walking along the wide walk beside the lake.
---
---