This year, for the first time in my memory, my birthday and Easter Sunday coincided in a happy celebration. My day started, of course, the night before, with all the Easter Vigil revelers coming home and telling me all about the wonder and beauty of the night at church. And, because my daughters are who they are, when I had seen how pretty they looked in preparation for the vigil, I asked Megan to get a nice picture of her sister. These were the best that I got. I will leave you to judge which one is the "nice" one. 😀 (And I always tell them, if you don't want to see that face on my blog, don't make that face in front of a camera! Everything is fair game! :-D)
---
---
Well, so anyway. Sunday morning, I knew I was "on my own" for church, as Paul was feeling a little under the weather, and he and Jacob had both been to the vigil anyway, so – not really on my own, as I had mumsy coming along as well, but she always sits in the front row, and I always do NOT sit in the front row when I am managing little people whose behavior can be unpredictable. I was getting ready to go, when Paul insisted that I open his birthday gift. I thought that an odd request since it is longstanding tradition to open gifts after the birthday dinner and before the cake. However, all was made clear when I opened the box and found this: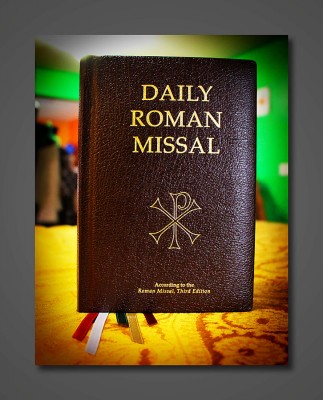 I have wanted a missal of my own for several years, so it was a fabulous gift. What a delight to use it for my very first mass on Easter Sunday!!
It goes without saying that the liturgy and music, with organ, trumpet, chant, and glorious hymns were thrilling and beautiful. One thing that was memorable about the day, however, was that we were sitting behind a family with an autistic teenage boy, and I was so tickled watching him throughout the mass. He wasn't a big distraction, but there were just certain things that made me smile. Throughout the mass he was enthusiastic and vocally inquisitive, and his parents were precious with him, quiet, patient, and careful in their explanations of what was happening. At one point during the prayers before communion when we stand for a while, he got worn out and just flopped down on the pew, and his mother took him out for a while.  They were back before communion, though, and he was audibly excited to go forward to receive the Eucharist. At the end after the blessing, as the organ and trumpet began the recessional, he couldn't contain himself and began clapping — and as Fr. Lankeit approached our rows on his way up the aisle, the boy gave him a giant thumbs up sign! It was adorable!! 🙂 In my heart, I was hugging the whole family.
---
After mass, we made our usual stop for drinks and a doughnut at QT, and then headed home. Since the Gonzales family were having a giant bar-b-que to celebrate Easter and Joann's reception into the church, we were on our own for dinner. I'd planned a taco salad bar, and the girls laid the spread, so all I had to do was sit down at the table with all my beloveds. I share with you the hilarity in all its silliness so you can see just a little of what I see when I'm sitting on my end of the table at any given meal.
---
---
I spent the rest of the day alternately resting, playing with photos, and keeping up with a steady stream of kind birthday wishes from Facebook, reminding me of just how blessed I am with such a super-abundance of family and friends. I am completely at peace with growing another year older, as each year brings more love into my life.
Thank you, Lord, for this year 48.
Let me use it for you!!