After a few days of adjusting to our routines again, we have begun to accelerate a little this week. Junior has a cool new desk set up in a corner beside the office and the white board, and loves working there on his writing, counting with the "Abra-cadabacus", reading (or being read to), praying with his rosary (he insisted on having it at his desk instead of over on the family altar table), and coloring in his jumbo-sized Amazing Spiderman coloring book. He has to take plenty of run-around breaks, though! 🙂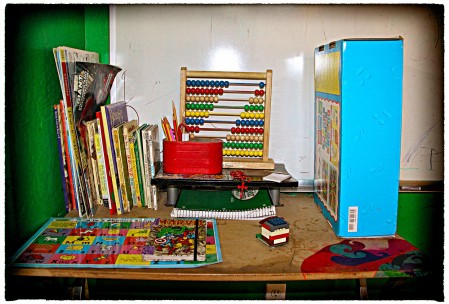 Jacob and Geneva are working on computer programming with Paul, and Jake's summer school is just math – but he's really made some leaps in just the last couple of days, so I'm excited for him.
Today I did what seemed like a lot of running to and fro, although only in comparison to my many days when I never leave the house. Geneva wanted to do some recording at the college, and she needed some help getting her voice mail set up, so we stopped by the T-Mobile store on the way. Turned out they need Paul to call in because the phone is under his name, but at least it didn't take long there. Then a quick stop at QT (always stop at QT. It's a rule. Especially in the summer.), after which we had to make another stop at the Main Glendale library (which is right beside the college) so Geneva could return a couple of books for Megan. While cruising around the parking lot looking in vain for shade, I saw a white van that looked like a twin to our Ford Aerostar. Looking closer, I noted that it even had a missing bumper on the mangled front end, and incredulously, I wondered how it could be SUCH a perfect replica. I drove around to the row it was in, and sure enough, there on the back was a Catholic radio bumper sticker. I had no idea Laurent (who is working as a nanny this summer) would be at the Library, but obviously she had brought her charges over for some kind of event. (I found out via text that it was a Lego event.) Anyway, after that brief interlude, I finally got Geneva over to the music building and headed back home.
I had a couple of hours then to work on keeping the laundry moving. Several years ago, as part of my home ec training, I worked out a chore system for the kids, which, after some fiddling, settled into a routine of Laurent working the laundry, Geneva managing the kitchen, and Megan being in charge of general tidying and floor sweeping/mopping. And Jacob's tasks were of course garbage, recycling, and outdoor jobs as assigned by his father (namely, POOP!… and raking, weed whacking, etc.). It has worked pretty seamlessly thus far, but that was mostly because I've had the college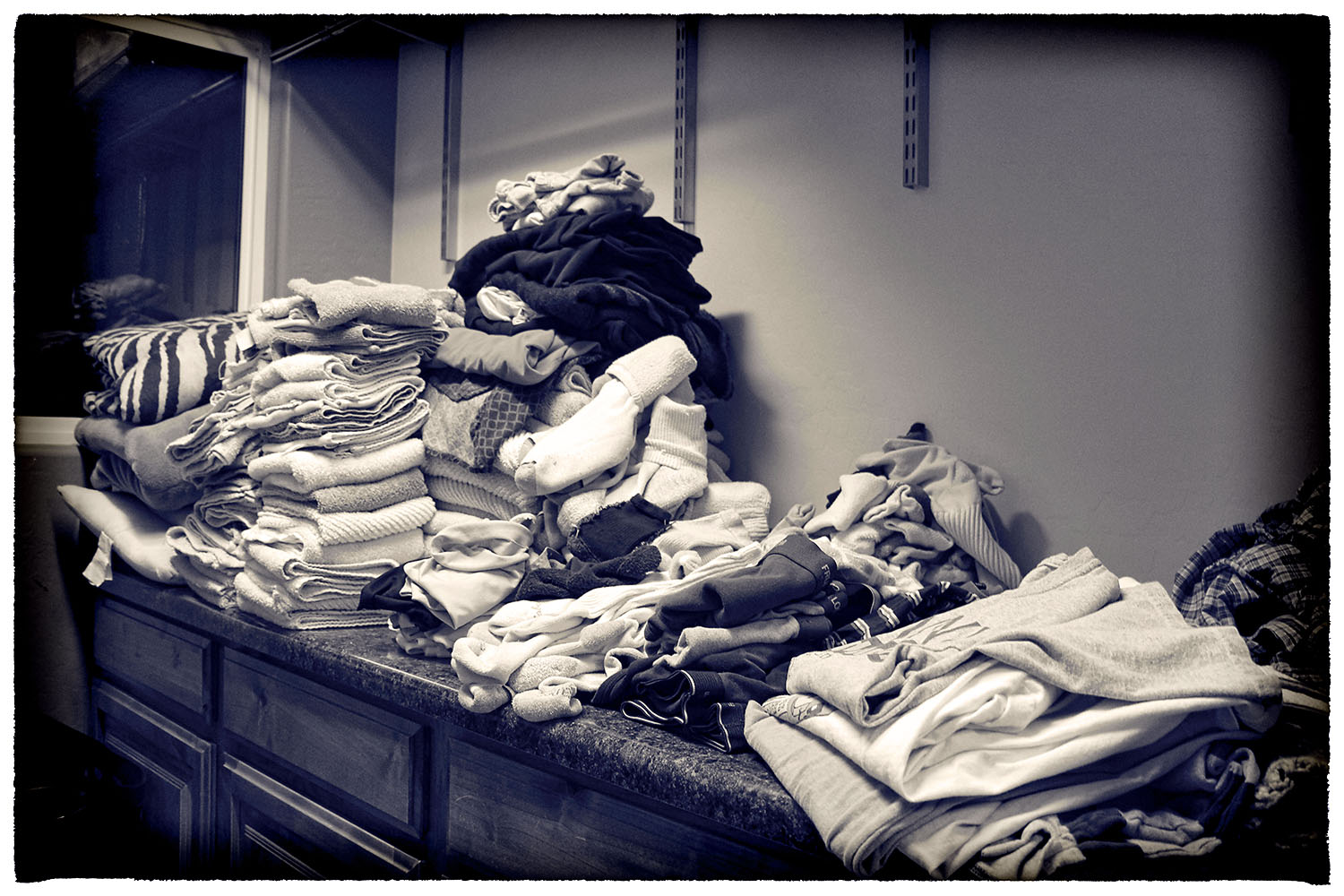 age girls living at home, and only working part time. This summer with Laurent working full time, and Megan beginning full time as a nanny for the month of August, and then in the fall, all three girls going to college, I've realized my team will consist of me and Jacob (and Junior, who always loves to help, especially with floors!). So today I started bright and early on the laundry, and right now the sixth load is in the washer, and I'll get it in the dryer before I go to sleep.  Here's the day's work — that tallest pile reaches the top of my head. 🙂
I got a text around 3:30 from Geneva saying she had sliced open a finger on a glissando, and, having not had the forethought to pack bandaids in her purse, would have to quit and come home. Silly girl — if she were a string player she would always be prepared for such things.
Went and got her, headed back home, only to turn around and get back in the car to take her to church for confession and then SVdP.
Finally back home again, I spent the evening finishing up laundry and doing some reading.
I should also note that some of the energy I've been expending today has definitely been due to excitement about the news we received yesterday, that our adoption certification has come through. I feel almost like I'm entering a sort of "nesting" phase, in preparation for the day when this sweet little boy will officially be our fifth child. I'm so, so ready to put a period at the end of this chapter of his life (and ours) and know that his stability is ensured, and that we will be his forever-family.