…and what a beautiful weekend it was, here in the Valley of the Sun.  Lots of breeze to keep things cool – although whenever I felt the winds whipping my hair or watched the flailing, bending branches of the trees while driving about, I could not help thinking that these winds were picking up speed as they traveled east across the country, and turning into dangerous storms. (gulp)
Saturday was a return to normal, with the girls and Paul heading off to shooting practice at an early hour.  Jacob had karate mid-morning, and mother came along for the ride and we hit the Wal-Mart Saturday morning madness when it was getting into full swing.  I'm gradually seeing my shopping anxiety attacks subside as we go forward, but for a while there, it was pretty much a panic attack every time I went into the store.  Unlike many moms who hate, loathe, despise and abhor shopping there, I'm quite accustomed to Wal-mart, and appreciate being able to accomplish nearly all my shopping needs in one economical trip, rather than having to spend extra time (and gas!) traipsing to many different stores.  (It helps that I have several of them from which to choose in this big metropolitan area, and they are all clean and well organized.)  However, after the fire, shopping became a real crisis point for me – in part because the sheer number of things we needed to replace all at once was blowing my mind… compounded by the fact that I am used to staying within a budget, and suddenly I was going to the store every day and spending money, money, money – you think sometimes about how nice it would be to be able to buy whatever you want, but when you have to it is very stressful!  Anyway, I'm happy to say that the stress is subsiding a little.
Saturday afternoon and evening were fairly relaxing, and we did a little cleaning in anticipation of Sunday and Monday, and watched a little of a new show we picked up on DVD (since all our other DVDs are being cleaned) – White Collar.
Sunday – love my Sunday mornings.  Everyone was ready early, so we all drove together and arrived at 8am for my choir call time.  I think the rest of the crew went to the swings for a while to pass the time (maybe not Oma)… 🙂  Since we were a little short on man-power we ladies got to sing Camille Saint Saens' Ave Maria.
I got to go shopping TWO more times on Sunday afternoon – 😀 – before sending Megan off to church for her first youth choir rehearsal and youth mass.  Laurent and I stayed home and did some prep work for Monday's family get-together, and then shortly after Megan returned home, her friend Emiley from theater came over, and Jeff arrived, and pizza was baked, and the great Harry Potter Marathon began.   I thought they might pull off 2-3 movies before giving up and crashing.  Oh, how wrong was I.  Here they are at 5:30 in the morning, into the 5th movie: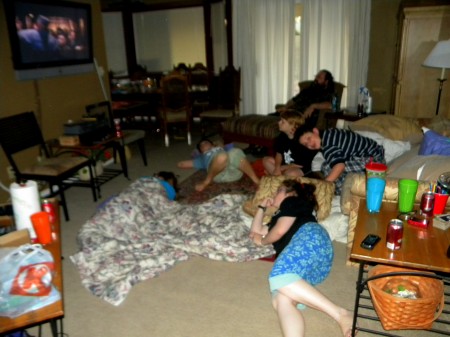 And they did not stop until 11:45 when Emiley's mom came to pick her up, nearly finishing movie 7.1!!  It was, as today's youth are fond of saying, an "Epic" movie-watching endeavor.
Considering that our Memorial Day guests began arriving around noon, it is remarkable that the children were able to stay awake, yet they did.  Oh, the glory of youth!  We had Jon and Jess and their family, Susan, Chris and Jeff here for an afternoon barbecue filled with fellowship and fun.  It was a gorgeous day, and we had all the windows and doors open most of the afternoon to enjoy the breezes wafting through the house.
The only down side to the day was the fact that I took no pictures of the family or the festive food-laden table.  The one you see above is probably the last photo I will take with my poor camera, which, while I believed it had survived the fire, has proven to be more damaged than I first thought.  I will be able to replace it at some point.  Sadly, it will not be with the one I see every time I go to Costco.  😀  I am certain, though, that I will be able to find a much cheaper model that produces gorgeous results.