I'm sick today, fighting a cough and plugged up head… but we did some school, yes we did.  And I had Laurent at home today, so she was able to make a big ol' batch of rye bread.  For some reason, this batch of dough rose sky high…

The Fed-Ex man brought a welcome surprise this afternoon as well:
Found these sets of "core collections" of literary standards from Perfection Learning.  Should be an interesting few months as we dive into some new literature.
After school, we zipped to our local polling place and cast our Principled GOP Primary votes for the candidate of our choice, then I proceeded to take Jacob to karate, and sat in the car coughing and listening to a little Tim Staples on one channel, and a little of the silly "news" commentary on another.  Didn't get much out of either one.
Oh, also got this book in the mail today: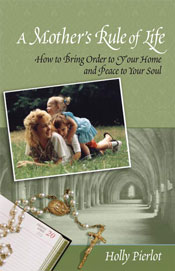 A Mother's Rule of Life
by Holly Pierlot
Found a group on FB discussing it and thought it might provide some worthwhile insights. 🙂
Now that supper is finished, all that remains for my day (aside from managing the kitchen cleanup, some more laundry, and making sure everyone is ready for their classes tomorrow) is to put together some stew to cook overnight and bring to the Lenten Soup Supper at church tomorrow afternoon.
And maybe run to the drug store and buy some super-duper cough medicine for the night.