School, and other excitement…
Someone <coughLindacough> reminded me that
I have been neglectful of my postings of late.
— Which I hadn't really *forgotten* —
it's just that I sort of had in the back of my mind that I was
waiting for a certain piece of news
to arrive. 
BUT! 
Life continues
and so must blogging.
~*~*~*~*~*~*~
As of last week, Laurent Victoria has begun her sophomore year at GCC, upward and onward.  Woohoo!  She's taking Criminal Justice, Anthropology, Computer Information Systems, and more Math this semester.  I'm absolutely fascinated by the direction she's going, since I would never in a million years have thought of working in Intelligence.  Clearly her early exposure to Alias had an impact!! Lol!  In addition, she's continuing to sing in the youth choir for the Sunday evening mass; has joined the Cathedral Choir; has begun studying voice with the phenomenally talented Karen Hendricks Crawford; is on the Youth Council for the SSJ Youth group; Sacred Heart Home Educators Youth Group; and is a leader for ROC (middle school youth group).
Megan Olivia is forging ahead into her junior year, with College level Biology and Algebra, History of the Church, Writing, Russian Literature, Philosophy, Critical Thinking, VocabuLit, Art, MoezArt Theater, Phy-Ed (workouts at the community center) plus her third year with the Angelicum Academy Great Books Program.  For extra-curriculars, She is on the SSJ Youth Council; Youth Group; Little Flowers; Sacred Heart Home Educators Youth Group; and sings in the Youth Choir Sunday evenings.  Megan is also an attentive helper for her Oma, comes to all her appointments, and assists with many aspects of transportation and medical needs.  She will also be helping with physical therapy as time goes on, learning all she can in preparation for her career in PT.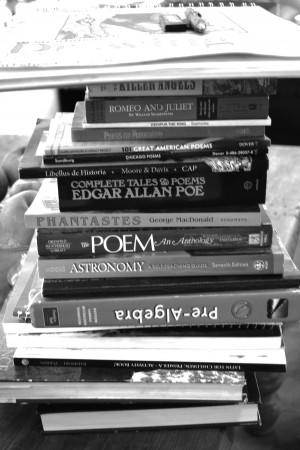 Geneva Melody, my littlest daughter ((sniff-sniff)), has begun High School.  I am bewildered and bereft.  (Not really.) 🙂  But I am very proud of her and excited for her progress this Freshman year.  She will be studying History, Religion, Pre-Algebra, Earth Science, Astronomy, Writing, Literature – Poetry, Philosophy, VocabuLit, Art, MoezArt Theater, Phy-Ed, Latin, and for extra-curriculars, SSJ Youth Choir; Little Flowers; Youth Group; Sacred Heart Home Educators Youth Group; and volunteering at St. Vincent de Paul with her dad, when needed.
Jacob Theodore Walter Scott "The Boy" Heidmann is an 8th grader.  This means all kinds of interesting subjects, including History, Religion, Math Fundamentals, Writing, Penmanship, Literature, Philosophy, VocabuLit, MoezArt Theater, Phy-Ed, Latin, and of course ROC at SSJ.  Now if I could just get him to sit still we could make flying progress.  Never mind.  That's the glory of homeschooling on the spectrum — we have the freedom to be "eminently flexible" (to quote our much beloved Fr. Charles Cherry).
~*~*~*~*~*~*~
The last two years have been so busy for us with church activities — first it was RCIA for the adults and older girls, and RE for the younger two; then last year, the younger two finishing RE and both Paul and I sponsoring new members through RCIA.  Well, I thought for sure this year would be a chance to take a breath.  But THANKS BE TO GOD, that is not the case.  We are literally euphoric that our wonderful neighborhood family is coming into the church, including the mom and all twelve kids, ages 21 down to 3mo.  The four oldest, 21, 20, 17 and 16, will be in RCIA this year, with Paul and I again sponsoring, and the rest of the family will be in the Family Membership class.  Every time I think about it, I get the urge to dance a jig.  Occasionally, I actually do.  Next Easter is going to be quite the celebration!!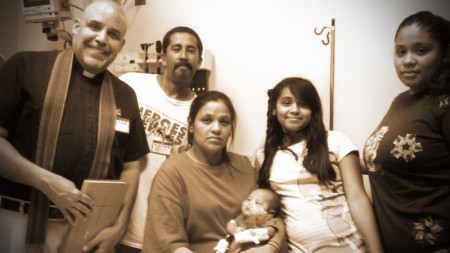 I mentioned the 3-month old.  That would be JoAnthony, and he needs special prayers. He is the most adorable little Downs baby, and he has 2 holes in his heart that need to be repaired.  He will be having heart surgery tomorrow, and it is obviously a very difficult surgery – they wanted to wait till he was at least 10 pounds, and he's not there yet, but they can't wait any longer.  Please pray for a successful surgery, skill for the surgeons, and peace and strength for JoAnn and the rest of the family.  (If you would like to let the family know you are praying, just leave a comment below this post. Thank you so much for your kindness!  I will post a surgery update as soon as possible.)
~*~*~*~*~*~*~
 Our weekend was winding down on Sunday evening… Laurent and Geneva had gone to evening mass followed by gym night at SSJ.  Megan had stayed home due to some ongoing neck pain from a pulled muscle, and we were catching Paul up on some episodes of CSI, when there was a ruckus outside in the street.  We are used to sirens racing by because we live just down the street from the firehouse – but these didn't race by.  The street was filling up right outside our front yard with fire trucks and police cars and flashing red and blue lights, and we ran out to find out what was up.  The action was all focused on our neighbors directly to the north, and we quickly learned that there was a fire that had started somewhere in the back rooms of the house — thankfully no one was inside when it happened, as they had just left before it started with the children to take them to a family member's house.
Memories of last year came flooding back, of the trauma and confusion, the waiting and wondering, the helpful emergency personnel, sitting outside on the sidewalk, our neighbors bringing us water and chairs, the Red Cross coming eventually to offer assistance.  We sprang into action.  Paul brought out some canned drinks, while Megan helped me in the kitchen.  Jacob brought chairs out so the neighbors could sit down.  We made some popcorn in our whirly popper, and Jeff arrived bringing a case of water.  He then ran to Little Caesars for pizza, while I popped some cookies in to bake.  As usual he bought more than enough, and we had enough to send some back to the firehouse with the firemen.  It was a huge blessing to be able to offer these small tokens to a family in crisis.  Once the firemen had left, Paul grabbed some flashlights and went over with them to help secure the house against theft. (How well we know that an empty post-fire house is a prime target for thieves.)  Thankfully, they have family with whom they can stay, and the fire damage was minimal.  They did learn that the fire started in the bathroom with the ventilation fan that had been left on.  Word to the wise: Don't Leave the Bathroom Fan Running!!
Anyway, as you go about your day, please say a prayer for this family as they re-group and find a new place to live.  They are also dealing with the very recent birth of twins, still in the hospital with momma.  Lots of upheaval and stress.  Lord have mercy.