What… a…. day……..
As per usual on a therapy day, everybody came along when we left the house at 8:20 so we could prove once again what incredible multitaskers we are by doing car school during the 9am appointment.  That went as well as it could go, and Mum and Megan were on their way out to the van right on schedule at 10am.
On the way home from PT, we looped up 35th avenue to the Kirby store to drop off the vacuum cleaner for repair – it hasn't worked right since we moved back into the house over a year ago, and we're only now getting around to actually doing something about it.  One CAN use a broom on carpet, in a pinch, and we have learned to make do.  But it's time to get it fixed.  And for the price we are going to pay, it better suck the snot out of those carpets!  (Not that there's snot on the carpets…)
Then we made a quick stop for a QT lunch for Jacob, Geneva and Oma, cuz it's shopping day and we're kinda low on supplies, and so they could go home and eat and be done with their running around.
THEN, Megan and I headed over to pick up Katrina at 11:30, and we had ourselves some yummy Jack's, and then at last we arrived at our ultimate destination – Wal Mart.  I had a full grocery/household supply trip to accomplish, and Megan and Katrina had their own cart to fill up – Katrina had been robbed over the weekend of literally everything she owned by a deranged lunatic, so we had the joy of taking her shopping!  Two hours later, we were in line to check out – and it took 40 minutes for three carts (although we were behind what looked like a couple of homeschooling families like ours – and may I just say, the matching pouffy up-dos on the mother-daughter team in front of us?  Awesome!!!).  That may be the longest I have waited in a checkout line that was not during the Christmas season at Fry's Electronics.  TOTALLY worth it though – knowing 'Trina was able to replace most of what had been stolen from her!  God is good!
Left Wal-mart at 2:30, took 'Trina home, arrived back at ye olde domicile around 3:30, and began the unloading and pantry re-boot.  (I love mason jars!  And beans.)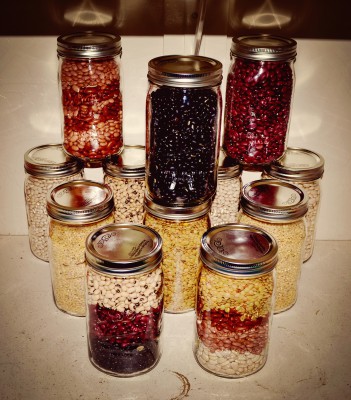 Supper was a quick warmup of leftovers (turkey, veggies, and brown rice) and was greatly enhanced (as was our general amusement) with Megan and her Pa seeing how much of the deceptively-named "Creamy Horseradish Sauce – Wasabi" and very aptly-named "Extra Hot Horseradish" they could handle.
Wasabi Horseradish!
With all that WAS accomplished today, I am still put out that for the second day in a row I have called the orthodontist only to find that they were closed for the afternoon.  What is UP with people only working in the mornings?? Jake has lost his retainers.  Believe me, we've torn the house apart.  I'm of the opinion that Gwinnie stole them off the bathroom counter and chewed them to smithereens.  In any case, Boom – another $150!  ((shakes head sadly…))
I am now off to help my son find the hidden sunshine in multiplication.  He has one more problem to finish before a) he can go back to playing Minecraft, b) his father gets home from SVdP, or in the extreme case, c) bedtime.
I don't know when I will get another chance to do any recording, but I'm not too disappointed with how my first round of podcasts turned out.  I think I like Be Thou My Vision the best of my imperfect efforts thus far.  My next project will be some Shakespeare recitation I think.  I need to do an homage to my all-time goddess of theater, Emma Thompson.