… is what they call it when you have to do most of your school day on the road.
Today started out with a surprise: Paul walked in the door around 7:20am, saying he had forgotten to leave the back gate unlocked, and thus had to come home so the contractors could get into the back yard to finish painting the trim on the shed.  Another day working from home – are we lucky or what?

  It was nice for him to be home on the last day of work on the garage though, as there were a few questions that needed his input throughout the day.
Only a few minutes after hubby got home, I was driving Jeff to work once more, it being 42 degrees standing still (chillier by a lot with the wind chill of traveling at 40 mph blowing through one's tattered roof).  Only when we reached his building did he realize he had not brought any of his Nutrisystem food with him for the day.  My quick thinking saved his bacon (a figure of speech, as he would never dream of eating bacon on a Friday during Lent

), and I drove him over to a nearby Quick Trip where he was able to find plenty of diet-and-Lent-friendly options to get him through the day.
---
I got home a bit after 8:30 and was soon hitting the books with the kids for about an hour, before Mom came tootling down the hall and I had to pack up The Boy and bring him along to mother's 10:00 prostheticist appointment.  I usually go in with her, but this time I sent her on her own so I could manage Jacob, and we spent the next hour and a third discussing a number of subjects, including his Intro to Catholicism chapter and many other church-related topics.  I always enjoy those conversations, tangents and all.
---
By the time we arrived back home it was nearly 11am, and there was a hullabaloo about lunch and a little more school, before yet again, I packed up The Boy to bring him along for Geneva's make-up piano lesson.  Between playing with the cat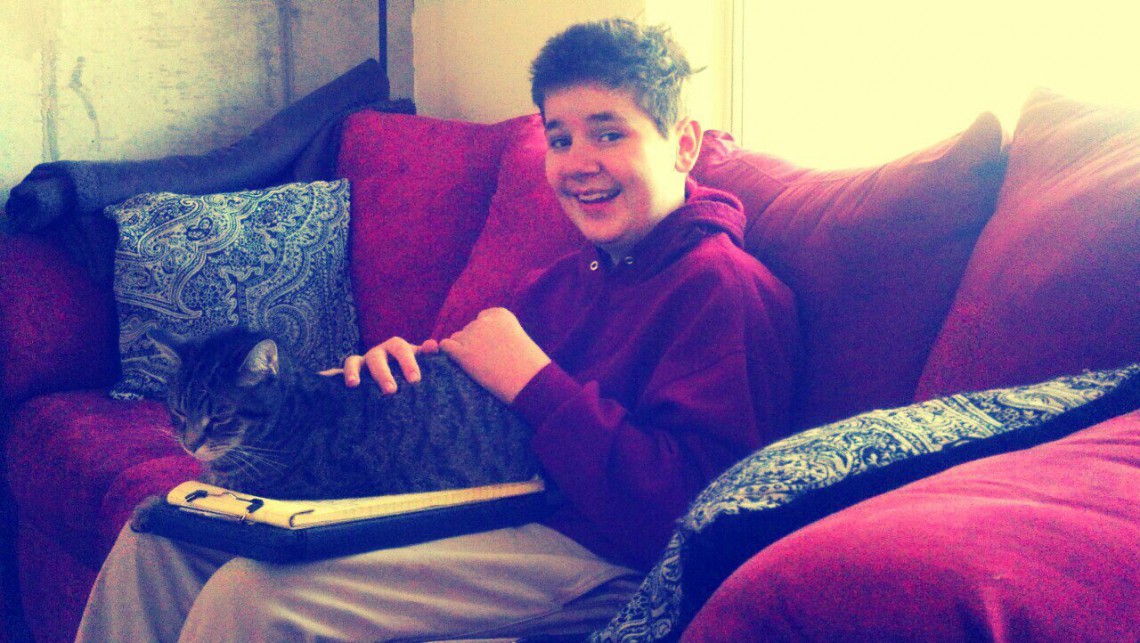 and listening to some Czerny, some Bach, and Will giving Geneva an introduction to twelve-bar blues, I am reluctant to claim that we got very much done, but Jacob did manage to do some writing, and some literature reading in Phantastes by George MacDonald.
---
By the time we got home, it was 3:30 and I was due to pick Jeff up at 4:30.  But you know what I did?  I completely forgot, and fell asleep.  Right about that time Paul could not leave because he was doing a final walk through of the new room before he could write the contractors a final check, and Laurent was at a science fair at GCC, so Megan happily volunteered to drive, with Oma riding shotgun, and they were able to get Jeff home just in time to hop in his little red chariot and run off to mass.  I'm grateful for the rest, and for the willing drivers!
---
I woke up from my nap with just enough time to get myself and Jacob read to go to Friday mass.  After all the running around and a very stressful last two weeks, I was ready for the quiet, the reverence, and the soul-nourishing mystery of the Holy Mass.  Our masses on Fridays during Lent are preceded by the Stations of the Cross, and Father has introduced the ad orientem –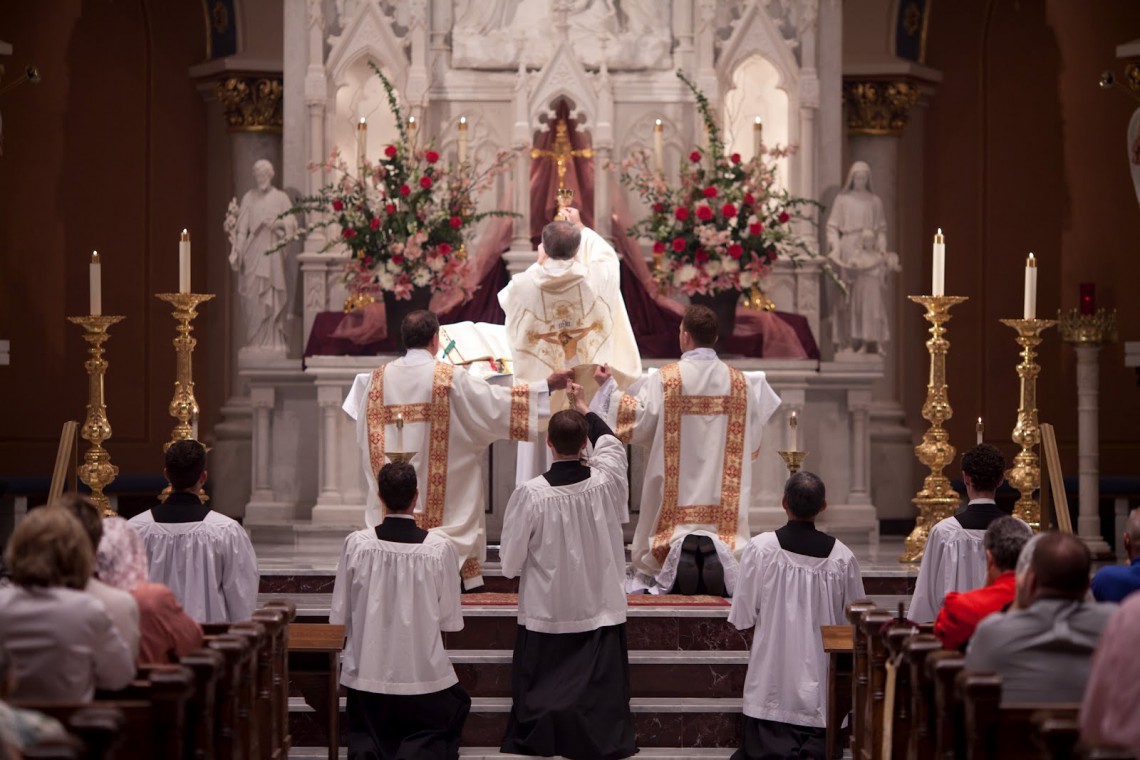 facing east, or facing the altar (as opposed to facing the people, which is the typical manner the Novus Ordo is celebrated).  (I borrowed this pic from Southern Orders, as I was reluctant to distract myself and everyone else by standing up and taking a really inferior phone-photo tonight at mass! But it gives you a sense of the beauty of mass celebrated ad orientem.)
After the mass was finished, Fr. Lankeit came back into the church and invited all who wished to come forward and he did a little Q and A time about the differences between what the priest experiences when celebrating the mass ad orientem and versus populum and asked for input from those in attendance regarding what the congregation perceives. There was, amongst those who commented, overwhelming approval for ad orientem as helping to guide our hearts and minds toward Christ, rather than focusing on the priest himself, and even a request to install altar rails. 

  As Fr. Z would say, "Brick by brick!"
---
We are now home and the kids are finishing the first movie in their marathon, Fellowship of the Ring (extended version, natch).