By popular demand, here, once again, is my standard bread recipe.  So easy, even little Carmello can do it! 😉

P.S.  Today's experiment included some Buckwheat flour, and walnuts.  I highly, highly recommend it.

[hr color="dark-gray" width="100%" border_width="2px" ]
Nettie Bread

Print recipe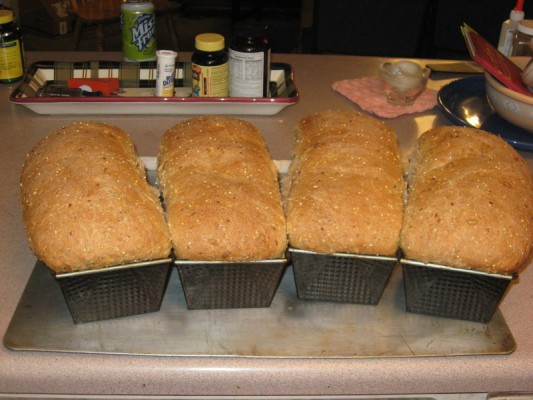 Whole grains, nuts and seeds make this crunchy, nutty bread an excellent source of nutrition and fiber.
Ingredients
6 cups Hot Water
2 tablespoons Salt
3/4 cups Brown Sugar (or Honey)
3/4 cups Canola Oil
6 cups Freshly ground hard wheat flour (Red wheat or white wheat)
2 cups Multi-grain Mix
2 cups High Gluten Flour (or 1/2 cup Vital Wheat Gluten and 1 1/2 cups bread flour)
1 packet Dry Milk Powder
6 tablespoons SAF Instant Yeast
Note
By special request — Here is my basic recipe for multi-grain bread.  I make this a couple of times a week.
** If you don't have enough whole grain flour, or if you would rather your bread be a little lighter, you can substitute bread flour for up to half the total amount of flour.  If you use bread flour, your loaves will rise higher.
Directions
Step 1
Mill a canister (6-8 cups) of wheat in your grain mill. Set aside. Turn on oven to 175 – 190 F. Place dough hook and splash ring or lid on the Bosch bowl. Mix all of the following in the Bosch bowl on speed #1 until well mixed.
Step 2
Let this mixture stand until foamy and bubbly – at least 15 minutes, and no more than 30 minutes. (This step is optional – I often skip it entirely and move right on to the next step of adding more flour. With the fast-acting yeast, it works just as well either way.)
Step 3
Then add more fresh milled flour** (about 6-8 more cups of flour) until sides begin to clean, changing speed to #2 when dough becomes stiffer. Begin kneading time when sides are just about cleaned. Let the Bosch knead about 9-11 minutes.
Step 4
Place dough on an oiled counter, let the dough rest 10 minutes and then divide dough in half, then divide the halves into halves or thirds, depending on the size of your loaf pans. I use a scale to make sure there is approximately the same quantity of dough in each pan. This recipe usually makes 4 large loaves or 6 small loaves.
Step 5
Using a rolling pin, roll out each lump of dough to a thickness of approximately 1 inch; fold in half or thirds and then roll up; punch rolled dough down into prepared loaf pans, (I spray mine with Pam cooking spray, or oil with Canola Oil) tucking the ends under and rounding to form a neat loaf shape.
Step 6
Place pans in warmed oven to rise, and turn oven off. (I always like to use the time while the dough is rising to clean the mixing equipment and counter.)
Step 7
When dough has at least doubled, anywhere from 20 to 40 minutes, turn oven back on, to 335 – 350 F. There is a range here because tastes vary in crust darkness. Also, if you are using dark pans rather than light pans, you will find that the crust gets darker more quickly. I use dark pans, and because the oven is already relatively warm when the baking begins, it heats up faster, so my routine is 335 F for 35-38 minutes. Loaves should be lightly browned – leaving them in either too long, or at too high a heat, will produce a dry loaf. Every oven is different so this is one of those areas where you just have to experiment and see what works best for you!
Step 8
Let loaves cool completely on a rack. Slice and enjoy!
Nettie's Multi-grain Mix

Print recipe
This multi-grain mix is useful as an addition to either bread recipes, or as the basis for granola.
Ingredients
10 cups 6-Grain Rolled Cereal
10 cups 9-Grain Cracked Cereal
2 cups Flax Seed (golden or brown)
2 cups Sesame Seeds
2 cups Millet
2 cups Sunflower Nuts (raw or roasted - I use roasted and salted for extra flavor)
2 cups Pumpkin Seeds (raw or roasted - I use raw)
2 cups Amaranth
2 cups Quinoa
Note
Directions
Step 1
Mix all ingredients and keep sealed and in the freezer.