Today we had yet another culinary adventure.  Jacob made his first Quiche!  I looked at bunches of recipes, and finally made one up on the fly.  I'm sure there will be subsequent modifications, but if you want to experience the original version, here's the recipe.

[hr color="dark-gray" width="100%" border_width="2px" ] [box style="gray note shadow" ]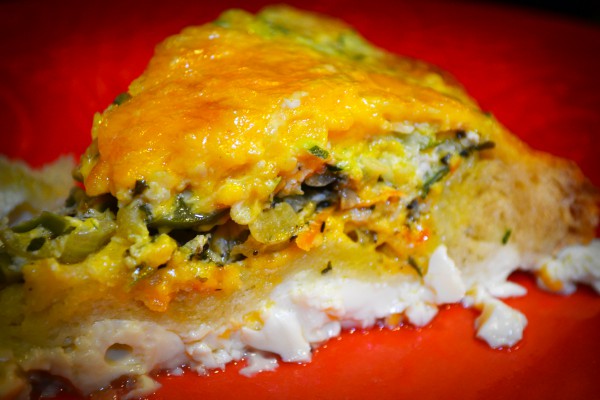 Jacob's First Quiche
Filling:
1 small carrot, shredded
1/3 cup finely minced onion
1 Tbsp. minced garlic
2 Tbsp. butter
1 small zucchini, shredded
1-1/2 cups shredded cheddar cheese
Seasonings:
Italian Herbs
Parsley
Cavender's Greek Seasoning
Coarse Ground Pepper
Custard:
8 large eggs
1/2 pint heavy cream
1 cup milk
[hr color="black" width="75%" border_width="2px" ]
Directions:
Turn on oven to 375°F.
Shred carrot, zucchini and cheese.
Mince onion (and garlic, if not using prepared minced onion).
Saute shredded carrot, minced onion and garlic with all the seasonings till onion is translucent and carrots tender.
Remove from heat.
Whisk to combine eggs, heavy cream and milk until thoroughly mixed.
Press 1 large size package of crescent roll dough into pie plate to form crust.
Spread half the shredded cheese over bottom of crust.
Spoon sauteed veggies over the cheese.
Spread shredded zucchini over the sauteed veggies.
Cover with remaining shredded cheese.
Pour custard over all until pie plate is nearly full — do not overfill.
Place pie plate on cookie tray in case of overflow.
Bake at 375 for 45 minutes, or until edges are firm and browned, and center is raised but still a little jiggly.
Cool for at least 15 minutes if serving warm, before slicing.  Cover and chill 3-4 hours, or overnight if serving cold.  Leftovers may be covered and refrigerated.
Delightful served warm or cold, for brunch or afternoon tea.

[/box]